Fedora Amis, Historical Mystery Author with a Humorous Twist, Member of SinC
Fedora Amis's debut novel, Jack the Ripper in St. Louis is a humorous Victorian mystery, which won the coveted Mayhaven Award for Fiction.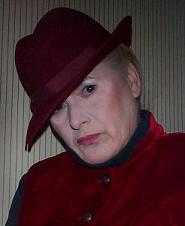 Fedora Amis
Fedora's distinctive voice is apparent right from the first line in her Jack the Ripper in St. Louis mystery. Her take on characters, relationships, setting, and story line makes this evocative historical mystery a captivating must-read. The reader is kept on the edge of her seat griping the handrail in a dazzling roller-coaster ride of a mystery. Unexpectedly, interwoven throughout is a strong dose of humor providing brief respites, just before another tension-filled scene. Such creative pacing makes for quite a ride!
Obviously, since her Jemima McBustle series is set in late 1890s St. Louis, Missouri, Fedora couldn't follow the dictum, "write what you know." Or could she? When queried about research, Fedora revealed fascinating insights into how to develop convincing historical characters and settings.
Fedora's historical detail is in many ways personal. For example, she has portrayed characters from the 1800s for a St. Louis, Missouri speaker's bureau. To do this, she developed her own personas, researching personal items like clothing, which she also made herself, and the speech mannerisms and patterns her characters would likely have used. Naturally, she also delved deeply into the events of the time—through reading local newspapers and magazines. After all that, she wrote and acted out the 1800s person she created. Thus, in many ways, this personal, hands-on involvement with her characters allowed her to have a more intimate understanding of their time and place. What a base for her future Victorian mystery novels to build on!
And, of course, as she begins a new Jemima McBustle novel, she uses the same meticulous attention to culture, time and place. Jack the Ripper in St. Louis and her upcoming books usually occur within a one week span in a particular year. She spends hours in the library reading that week's articles and reviewing advertisements in local newspapers and magazines—much of it on microfilm. This allows her to get all kinds of seemingly superfluous information, but which can be critical for credibility—such as what the weather was like and what people were talking about, whether in politics, entertainment, or social life.
Another defining trait of Fedora's mystery is her ability to draw a scene so well for the reader that we feel we are watching a movie. This is something all writers hope to do well and she is masterful. Interestingly, she noted in the interview, that she is mindful of the importance of a related dictum: "show, don't tell." Your alpha and beta readers or your critique group can be helpful in keeping you on track for this. I admit to being surprised when Fedora said she carefully edited her work highlighting the need to show and not tell because, as I said, her novel is not unlike watching a movie. This also indicates how important it is for the author to know what she wants in her final product—the novel—and to follow through with care and precision.
With the debut of Jack the Ripper in St. Louis we have an exciting historical mystery with a lively, humorous edge—and the debut of an up-and-coming author with a unique voice. Read Fedora Amis's Jack the Ripper in St. Louis and buy a copy for your favorite history or mystery buff.
Fedora's Writer's Tips
Write every day: Yes, you may have heard this before, but Fedora sees it as essential. If you don't have much time, set a modest daily goal. As she pointed out to me, if you simply write 100 words a day, you will have a completed novel in two years. That's only about seven typed lines on your computer! Fedora follows this rule herself and writes every day, first thing in the morning for at least a couple of hours, even before breakfast. Okay, this last may not would work for you, so do breakfast first, then write; or write at lunch; or when the kids are doing homework; or before you go to bed. What's important is to write consistently.
Write the book you want to read: Another way Fedora put this was to "write the book of your heart... Writing isn't something you choose. It chooses you." In other words, take the story that's been clamoring around in your head and put it on paper (or the screenJ). Don't give up.